今日のCNNニュースに鳩山さんが取り上げられています。やはり半世紀の及ぶ自民党政権が変わることに対し興味津々のようです。
それも、反米的な動きをするのではないかという懸念も表れています。

On the foreign policy front, Hatoyama has strongly criticized what he perceived as his predecessor's pro-United States stance.
"We've said yes, yes, and sent our troops whenever the U.S. has asked us," he said after the election win. "We should take pride in our own position."
Hatoyama said he will halt Japan's refueling missions in the Indian Ocean in support of U.S.-led coalition warships in and around Afghanistan.
でも全般的には客観的に様子を見ようという雰囲気です。一部ここに抜粋したのでご覧下さい。そして興味があればリンクを作ったのでCNNのページで全体をお読み下さい。ビデオもあります。こうして英語を使う(触れる)のが上達にプラスになります。
TOKYO, Japan (CNN) -- It's all but certain that Yukio Hatoyama will be elected Japan's next prime minister on Wednesday.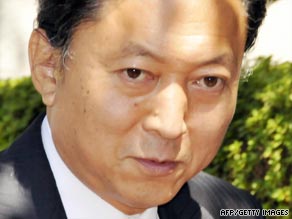 Yukio Hatoyama has criticized what he said was his predecessor's pro-United States stance.
Less clear is the direction the nation will take under him.
The country is still reeling from the after-effects of its worst recession since World War II. Unemployment is at historic highs, as is homelessness. Pessimism and impatience dominate the national mood.
Against that backdrop, Hatoyama faces delivering on a laundry list of promises. And voters, who handed his Democratic Party of Japan (DPJ) a landslide election win last month, are unlikely to give the party much time to make good.
この続きはCNNのページでどうぞ。
Japan's new PM faces daunting in-tray